My momentous encounter with the wall sculpture "COME TOGETHER II"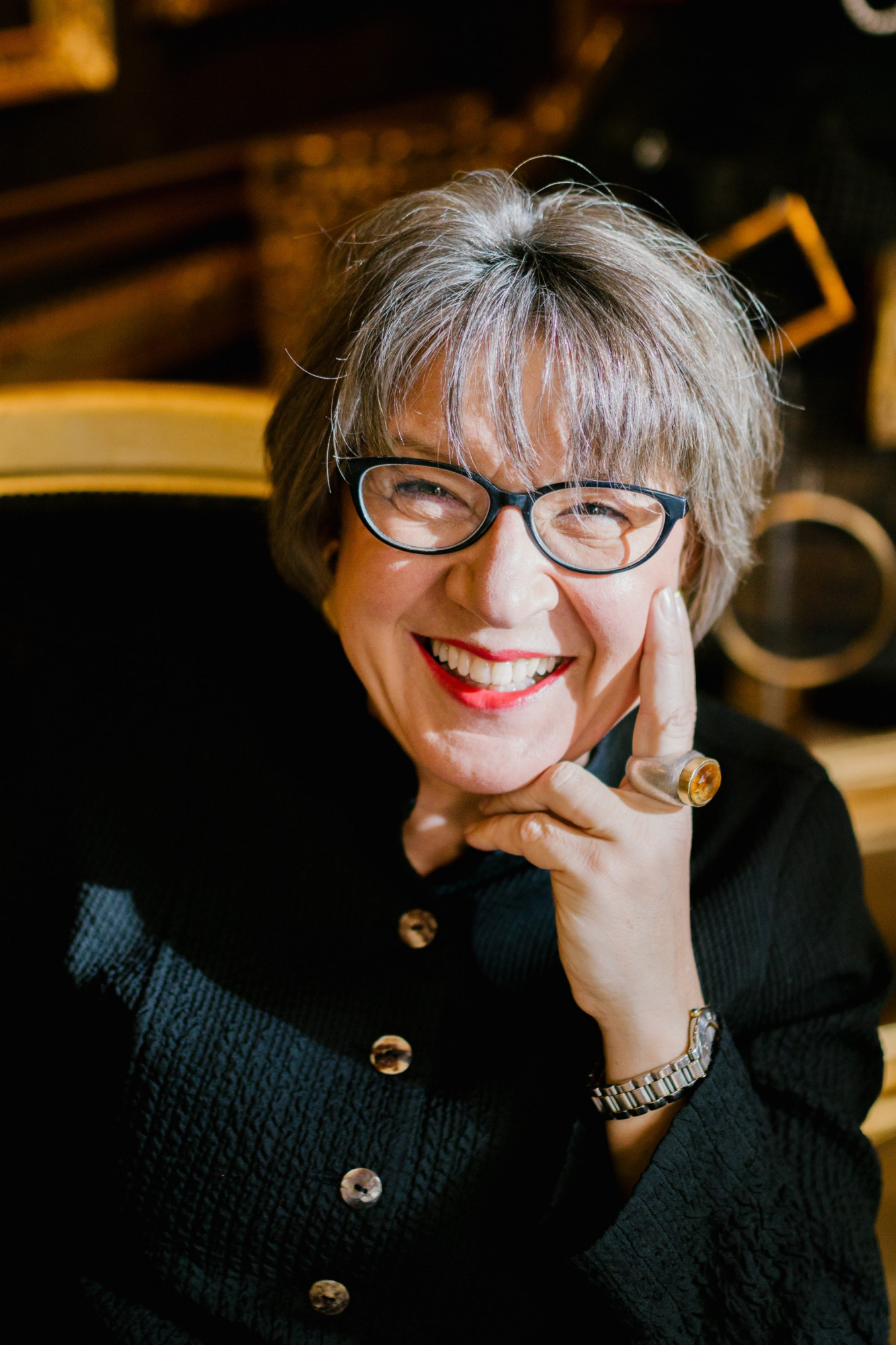 Gerda-Marie Adenau
March 2021
It started out with a quiet moment between primeval ammonites and a business card: my path to Come together II. 
2003 – In my early 40s, I found myself a single parent with two young children. It was a tough time back then: new apartment, new life. Hanging "my" paintings gave me a sense of home and confidence. As if by magic, they spread around the apartment and began their dialogues.
Only the white wall above the couch resisted this approach. This space remained empty. For years. It was something I did not mind. On the contrary – the blank wall turned into a symbol for untapped opportunities to me. I knew that, at some point, the right painting would find me. It would be powerful. Sometimes I longingly went in search of it. But love will not be forced. 
2014 – I am in a relationship with a mineral collector. Minerals, well. His annual highlight is the "Mineralientage", the "Minerals Days" – an international trade fair in Munich dedicated to minerals, gemstones, jewelry, and fossils. As in previous years, he wants to sell some of his treasures at his own booth and talk shop with other mineral enthusiasts. He gives me a free ticket. Alright. 
Thus, on Saturday I set off for the exhibition halls of Munich-Riem. There, I try to orientate myself. Large panels provide information, and the exhibition is divided into four themed worlds: Mineralworld, Gemworld, Fossilworld, and Stoneworld. 
I start my tour in the Gemworld, immersing myself in the glittering, sparkling world of rings, brooches, and necklaces with precious gemstones. After a very short time I am satiated, and go in search of my partner in the Mineralworld. In addition to the large exhibition stands of professional dealers, there are also halls in which amateur collectors and clubs present their treasures. I find my spouse in the "alpine" section, deeply absorbed in a professional discussion with a customer. Of course, I can't disturb him. I move on.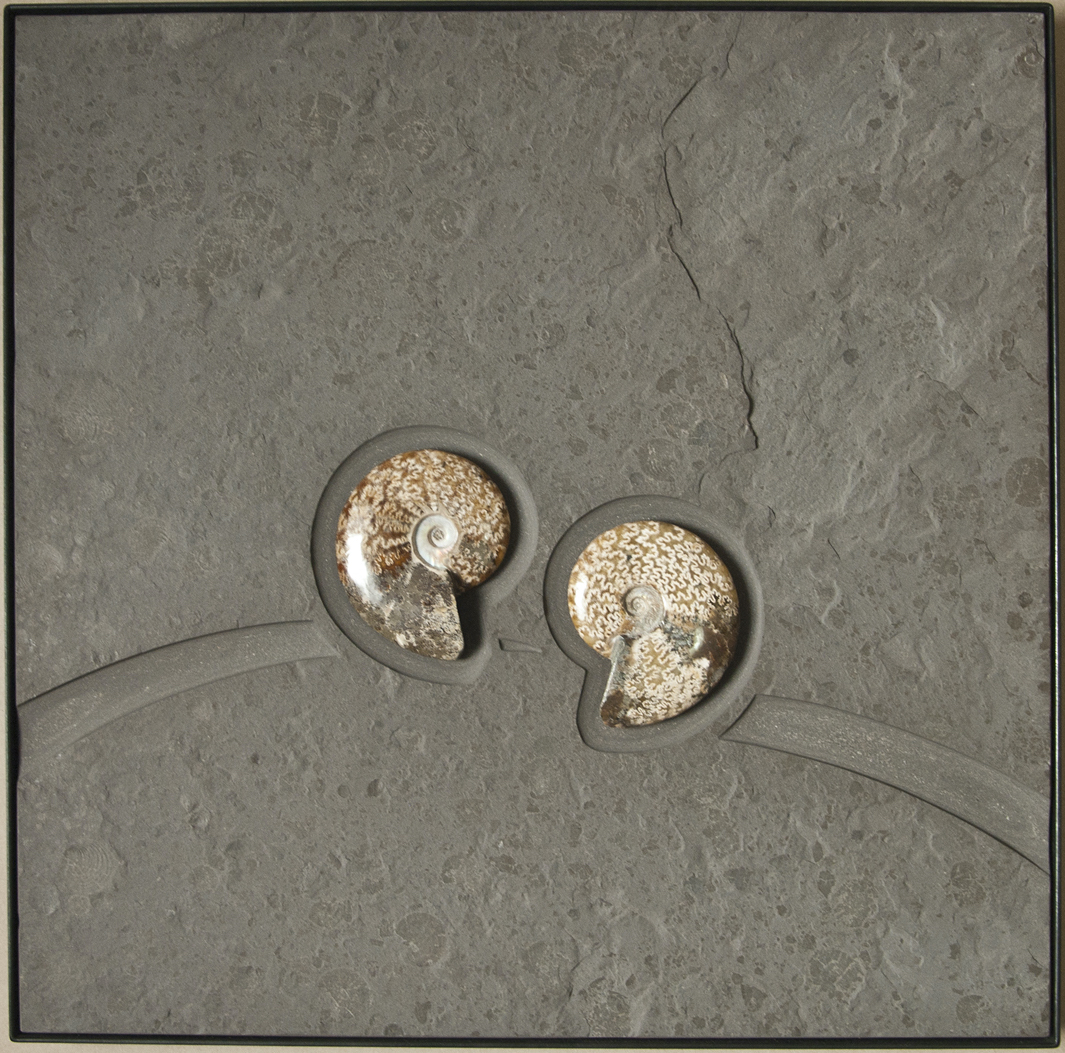 First impression in Munich - Wall art with fossils
COME TOGETHER - wall sculpture - 80 x 80 cm 
After an hour I am completely exhausted. Everything is too much for me. Too many booths. Too many stones. Too many people. I take refuge. And I land in a large, quiet, walk-in booth with a few wall objects and stelae. In this oasis of calm, I look around. Slates, ammonites, gnarled olive wood. Primeval. Inconceivably old. Processed in a modern way. Large. Powerful. Clear. Slowly I proceed from object to object. I look. My gaze lingers on a slate on which two half ammonites are moving toward each other. "Come together," it is appropriately called. I am enchanted.
I pocket a business card, the only one that day: Hendrik Hackl. If I'm still thinking about the objects in six weeks ... 
Come together II
Four weeks have passed since the mineral fair. Every other day I meandered through Hackl's website. Each time I got stuck on "Come together". I call the artist in his workshop in Mannheim/Germany. To learn that my favorite had already been sold. What a disappointment. But Hackl has the solution: "You know what, I'll make you the same object again. Come together II. If you like, you can also choose the ammonites." I sleep on the proposal for two nights, then I accept it. And so I make a stop in Mannheim at the end of December on my next trip home to the Eifel region.
Visit to the workshop
At the Minerals Days, I had noticed Hackl only in passing. Now I am very curious about him and his workshop. The navigation system leads me to a small street with older houses. Auerhahnstraße 9 welcomes me with a large green gate. Through a courtyard with all kinds of figures of various kinds of making, I enter the workshop. My gaze flits around the room. The large work table. A heavy welding machine. Stone slabs. Iron frames. I am impressed.  
Hackl is a slender, fine-boned man with short hair, an open, friendly gaze and calm movements. I have the impression that he senses that this purchase is something very special for me, and that I am still wrestling with the final decision.
The moment of decision
Hackl shows me the slate: "It comes from Holzmaden in Swabia." About 180 million years ago, during the Jurassic period, the Jurassic Sea stretched over a wide area. When tectonic shifts once caused the water masses to flow off into the open sea, huge layers of mud were left behind. Ichthyosaurs, crocodiles, crinoids, ammonites, fish, and belemnites remained encapsulated in the silt. Under high pressure and complete exclusion from the air, the mud and the marine animals were pressed together layer by layer over millions of years to form Jurassic shale. 
I reverently stroke the shale slab, feel the unevenness, look at the many small inclusions. Hackl goes to a large basket, reaches in and takes out various cut-up ammonites, from which I may choose a pair: I am holding 100 million years in my hands. Carefully I make my choice.
With that, the purchase is finally sealed. Hackl gets to work, and I drive on to meet my family in the Eifel. 
The meeting
January 6, 2015: Once again, I'm standing in the workshop. For the whole drive I have been looking forward to this moment, asking myself the anxious question of whether my "Come Together" would unfold the same magic as the original a few months earlier in the exhibition.  
Hackl leads me to his work.  He knows when it's time to be silent. I look at it. For a long time. The ammonites giggle and whisper. And I know: we will get along very well.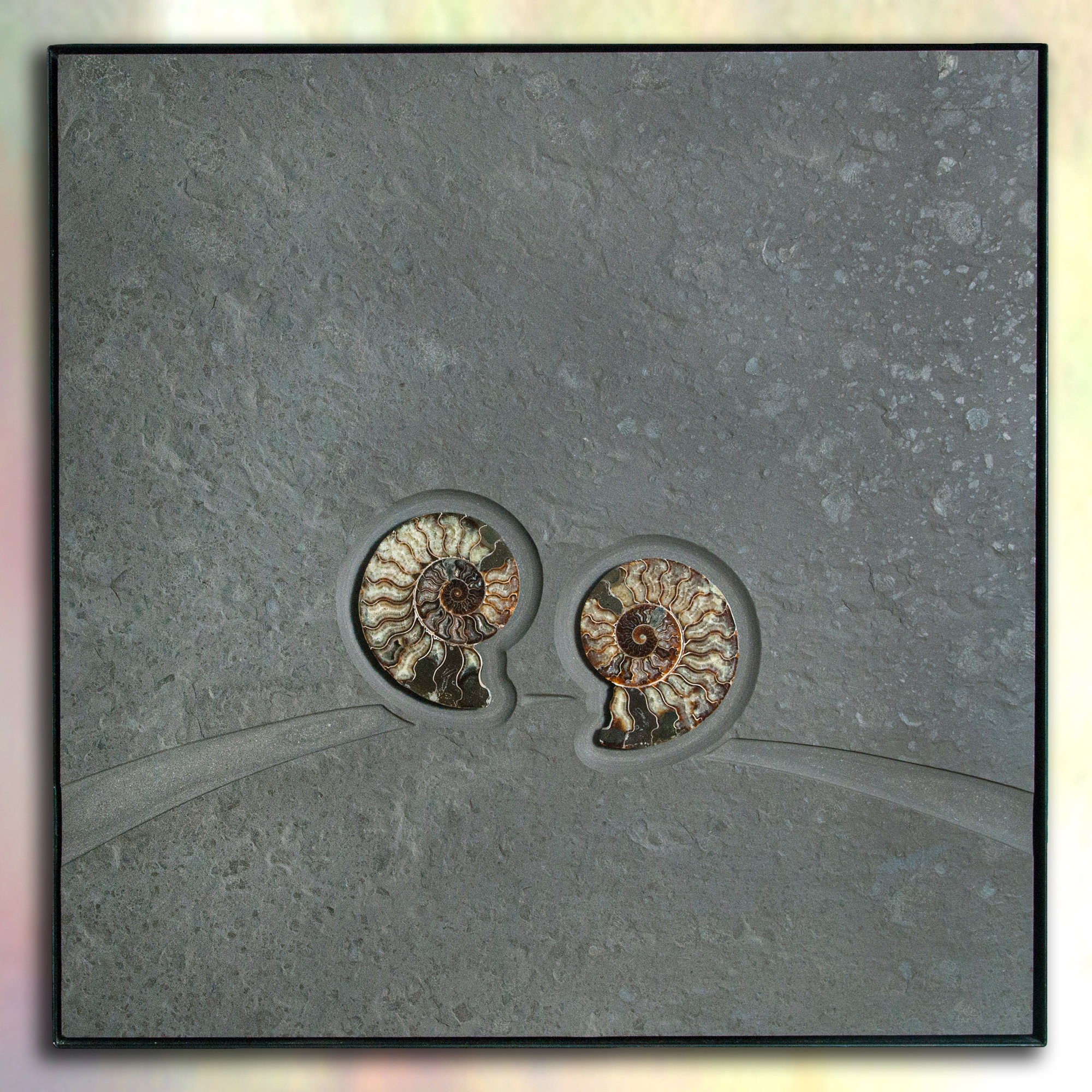 Wall art with fossils
COME TOGETHER II - wall sculpture - 80 x 80 cm - ammonite from Madagascar, slate, iron frame
Caption: The first meeting in Munich – COME TOGETHER